The pool is closed for 2023 season. Thank you for a great summer.
Our Pool
The Kellogg Public Pool is proud to contribute to the quality of life for our community, and for future generations, through welcoming, fun, safe and positive aquatic experiences.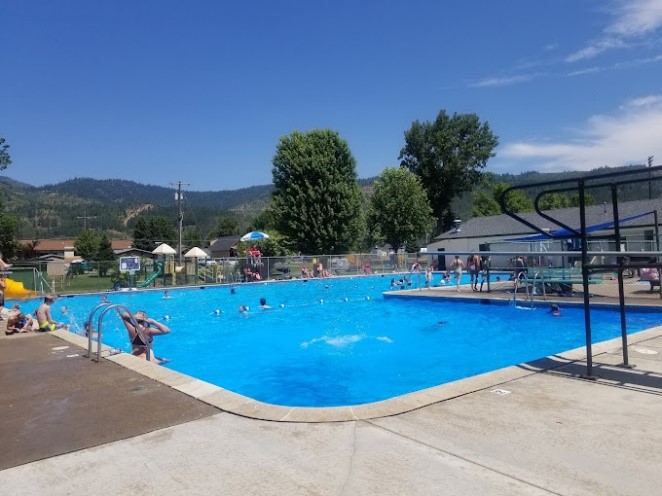 Location
The Pool is located in the Kellogg City Park at 2 S Hill Street.
Fees
The Kellogg City Council has again waived the Daily Use Fees for the pool for the 2023 summer season.
Schedule
Opening of the Pool is scheduled for Wednesday, June 28th, 2023 and is generally open through the end of August of each year.
The Pool will be open Monday – Friday with the following hours.
11:00 am 2:00 pm Open Swim – Midday Session
2:30 pm to 5:00 pm Open Swim – Afternoon Session
5:00 pm to 6:00 pm Adult Lap Swim
Swimmer Information
Entry to the Pool is on a first come, first serve basis. The Pool Facility capacity and Wading Pool availability are based on the number on duty Lifeguards.
Children under the Age of 10 years old must be accompanied by an adult.
Life jackets, swimming buoyancy sticks, kick boards and goggles are available and can be checked out. Quantities are limited. Checkout and return policies are strictly adhered to.
Special Events
The Kellogg Public Pool can be reserved for special events, on a first come, first serve basis, by contacting Kellogg City Hall.
Additional Information
Please call Kellogg Pool at 208-783-1070 or City Hall at 208-786-9131 with any additional questions.
Now Hiring Lifeguards

The City of Kellogg is looking to hire part-time lifeguards.
$12.50 + Per Hour.
Shift hours are Weekdays and Saturdays 10 am – 6 pm.
Lifeguard position will be responsible for the general supervision and safety of patrons
at the Kellogg City Pool by preventing and responding to emergencies.
All training to become a Certified Lifeguard is provided. Training starts soon.
Application available at Kellogg City Hall or download here :
Kellogg City Pool Lifeguard Application
For more information, contact Mike Fitzgerald at (208) 786-9131
or email mike.fitzgerald@kellogg.id.gov.